PEOPLE
international students
About 50 international students are currently enrolled in various programmes. 50% of them are younger than 18 years old, and 50% are adults, from 18 years old to up to 30's. They are from various countries and different backgrounds. About 60% of them were performers or will take performing as a profession after graduation. Others are enthusiasts and are realizing their dreams of achieving awesome physical skills and stunts. They are having a colorful school life.
Students from all over the world have studied at our school: Great Britain, Switzerland, Spain, Russia, Portugal, France, Sweden, USA, Mexico, Australia, New Zealand, Vietnam, South Korea and Japan.
We have a facebook group for international students at http://www.facebook.com/group.php?gid=7936981612
domestic students
About 500 domestic students are currently enrolled at the school. Their ages are about 10 to 18. Because our school is a secondary school, most students are of high school ages.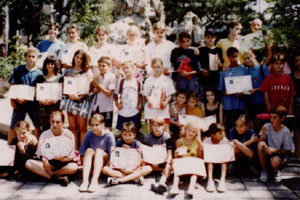 graduates
International students who graduate from the study mostly keep on their career in performing arts or entertainment business. The study at our school has equiped them with superb skills and rich experiences.
Domestic graduates: Most of domestic graduates in Acrobatics are hired immediately by Circus China. Graduates from Martial Arts department get hired as coaches and atheletes. Students majoring dance get hired as dancers, teachers, or enroll in colleges for performing arts.
staff
We have over 150 experienced teachers and administrative staff members.
Provost: Sun Li Li
Vice Provosts: Wu Qiong
International Student Advisor: Duan Lao Shi
Overseas Admission's Office: Ted Han