STUDY PLAN
long term study
For acrobatics major, the study is year round except for two weeks break in end of January or in February following the Chinese New Year. Because each year the Chinese New Year fluctuates on the calendar, the exact dates should be determined by the Lunar Calendar. As always, that falls in the end of January or February. That means the acrobatics program is open all year round except for two weeks in the end of January or in February.
For majors other than Acrobatics, the study is semester based: the Autumn Semester from the beginning of September to the beginning of January, and the Spring Semester starting from the end of February to the end of June.
We encourage applicants to study for a long term. Long term studies means 1/2 to 3 years of study. There are a lot of skills to study. It needs time to convert knowledge to natual physical agility and instincts.
short term study
We teach summer courses and other terms shorter than one year. July and August are the summer term. In these two months some acrobatics programs such as flexibility, strength, equilibrium, handstanding and tumbling are taught.
Complete programs are all available from March to June and from September to January.
course structure
Teachers configure courses based on the situations and interests of each student.
You can select courses from the department enrolled in.
performance
Students at the School occasionally perform on stage with the famous Circus China. Circus China is the largest state circus in China. It presents the best circus performances in China, as well as in the world.
While performing jointly with Circus China, students get the valuable on-stage experience and prepare them for the professional career in the future.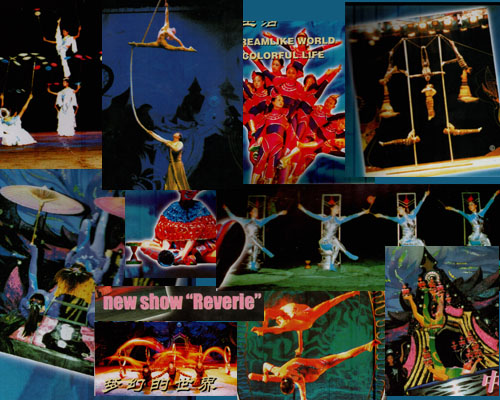 Many students from the School have won top awards from international and national circus festivals.
Working with these professional trainers and acrobats will be a wonderful experience.
work/study
Jobs in Beijing are plenty and relatively well paid, especially at foreign firms, or at colleges teaching foreign languages. It is not OK for you to work part time with a student visa. You need to get a work permit issued by the government in order to work in China.
financial aids
Financial aids provided by the school is very limited, and are usually allocated to students from 3rd world countries.